What if I told you that I found a stock market indicator with a perfect track record of calling the biggest stock rallies in history? Better yet, what if I told you that last week, that bullish indicator flashed for the first time in several years?
It's true. An ultra-rare stock market indicator with a 100% track record of calling massive market rallies just flashed last week. 
According to this indicator, the 2022 stock bear market is over. Moreover, 2023 will be the best year for stocks since 1954 – before most of us started investing or were even born. 
In other words, I found a 100% accurate stock market indicator that just flashed last week. And it says we're on the cusp of the best year to be a stock investor in our lifetimes. 
Interested?
You should be. If you buy the right stocks today, you could make a fortune over the next 12 months.   
Best Year for Stocks Since 1954?
On Thursday, the S&P 500 rallied more than 5% while still in a bear market. That's incredibly rare. It's only happened 19 times over the past 52 years. 
Then, on Friday, the S&P 500 followed up that massive 5% single-day rally with another 1% rally. That's even rarer. Most of the time, stocks take a breather after such a huge rally – but last week, they only added to those gains!
Last week's price action – a 5% bear market rally in one day followed by another rally the next – has only happened seven times since 1950.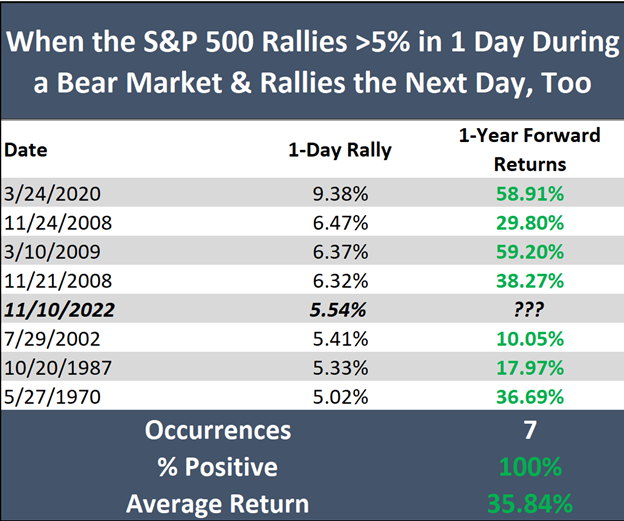 And 100% of the time, stocks were higher a year later. The average return in those rallies? A whopping 36%!
In other words, stocks just did something that they tend to ONLY do when they're about to explode higher over the next year. 
Fifty-two years of data proves that point. History says there is a 100% chance stocks soar about 36% over the next 12 months. 
You have to go all the way back to 1954 to find a year where stocks rose more than 36%. 
Most of us weren't investing in 1954. Some of us weren't even alive. Today, folks, you are truly staring at the investment opportunity of a lifetime. 
The Final Word on This Bullish Indicator
Let me share a bullish truth that everyone tends to forget when stocks are crashing. Every bear market eventually turns into a new bull market. That's why the 50-year chart of the S&P 500 goes up and to the right. 
Here's another fact: The best years on record for the stock market are when bear markets turn into bull markets. The S&P 500's best years of this century (2021, 2019, 2013, 2009, and 2003) pretty much all came after bear markets turned into new bull markets. 
Combine those two. Every bear market turns into a bull market. And the best buying opportunities in history happen when bear markets turn into bull markets. Therefore, you need to buy the dip in stocks when new bull markets are forming.
That could be happening right now. 
Wait, and you could miss the opportunity. But if you want to take advantage of it, I'll tell you how to best position yourself for big gains. 
On the date of publication, Luke Lango did not have (either directly or indirectly) any positions in the securities mentioned in this article.